04
Sep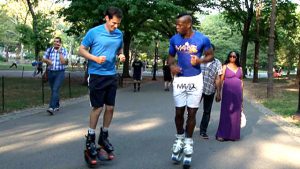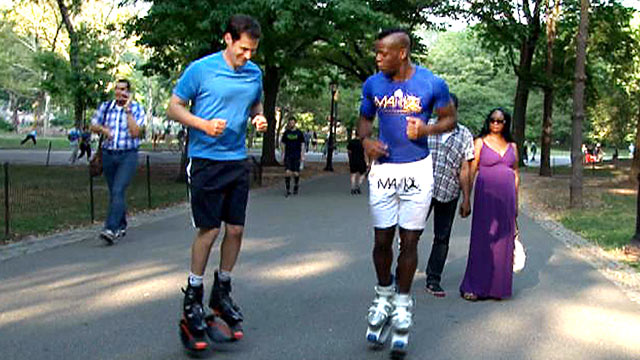 Have you seen these???  I saw these on Facebook recently, and I just had to know more! Not only do they look like lots of fun, but, I imagine you can actually burn more calories using them! So, I did some more research, and here's what I've learned about these fantastic bouncing and jumping boots!
First of all, I guess I'm late to the party! I found videos as old as six years old with this style! I did see something similar for jumping shoes, or rather, a similar idea a while back, but those were actually more like a one blade type of piece attached to a boot or shoe similar to a prosthetic. But the boots and shoes I have seen on Amazon now have this flexible loop design and are used for exercise. One company has a large spring in between the two pieces that form the loop, some have a "shock absorbing" ball, and some of the others have just the flexible loop. From what I've read, you will need to choose the pair that relates to your weight rather than your shoe size. Otherwise, you do risk breaking them. So you'd be wise to buy a pair that corresponds to your higher weight fluctuation rather than the lower.

From what I've read, it takes approximately 10-15 minutes of getting used to these shoes that are now attached to your feet, but once you are acclimated, you're off in no time! You can use these outside or in. They promote efficient exercise, burn lots of calories, build coordination and strengthen leg muscles all while reducing impact on your knees. They are also unisex – geared for both men and women of all ages and fitness levels!
G-Max Jumping Shoe Boots:
The G-max Jumping Shoe Boots
are designed to fit over your work-out shoes, and from reading the reviews, these are a great addition to any work-out routine especially if you wish to lose weight fast. The G-Max shoes are also rated 4.8 stars out of 5! The reviews are GREAT! In fact, out of 14 reviews, there are 13 people rating the G-Max item 5 Stars and only one person rating it One Star due to a "broken strap."
Time Saving Exercize!
From what I've read, you can actually lose twice the weight you'd normally lose in the same time-frame. Some reviews have said they can work out as little as ten minutes, and they're already dripping sweat. I admit, what interested me is that I have little time right now to go back to my old gym routine to get back into shape after experiencing not one, but two major injuries in succession. But, when I saw these, I thought WOW! Imagine wearing these while cleaning the house! …What can I say, I'm into multi-tasking, and these would seriously fit the bill. Not only would I be quicker cleaning the house, but lose weight while you're doing it too!
So, guess what I'm getting myself for Christmas?  🙂  Maybe even an early Christmas gift!
Here are the links – Check – them – out!
Stay Fit!
~Toni
Save
Save
Save
Save
Save
Save
Save
Save
Save
Save
Save